Training
Save the Date - June 16 - 11, 2010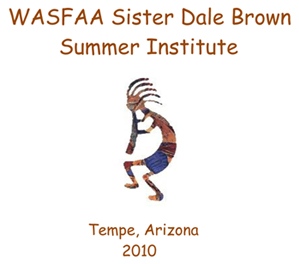 WASFAA is again pleased to sponsor the 2010 Sister Dale Brown Summer Institute (SDBSI), being held at the Arizona State University, Barrett Honors College, Tempe, AZ. The SDBSI is a 6-day intensive residential training program designed to provide attendees with training on the fundamentals of administering the Federal Student Aid Programs. The curriculum is geared towards "new" financial aid administrators with two years or less of hands on processing experience and also provides a medium for experienced aid professionals to receive refresher training on the basics of aid processing.
Training Topics will include:
| | |
| --- | --- |
| Overview of Aid Programs | Professional Judgment |
| FAFSA Application Process | Calculating Pell Grant Awards |
| Student Eligibility | Processing Student Loans |
| Federal Methodology | Return of Title IV Aid |
| Cost of Attendance | History of Financial Aid |
| Verification | The Legislative Process |
| Packaging and Awarding | |
Summer Institute Costs: Costs include instruction, printed materials, housing and meals.
$695 for On Campus, Single Room
$595 for On Campus, Double Room
$495 for commuters

Participants may arrive early on June 5th and/or stay an extra night on June 11 for an additional cost of $50 per night. Meals for these days are not included.

Travel Plans/Arrival & Departure
Plan your travel to arrive in time for Check-in, which will begin Sunday, June 6, at 10:30 AM. The first instructional session begins at 1:00 PM. On Friday, June 11, the last session will end at approximately 11:00 AM, so please make your travel arrangements accordingly.

Lodging & Meals
Participants will stay in the Barrett Honors College. It is a private gated college on the Arizona State University, Tempe Campus.

Local Attractions, Shopping and Entertainment
There are lots of activities around Arizona State University for attendees to partake.

Faculty
The 2010 faculty includes experienced financial aid professionals from campuses and organizations throughout the WASFAA region.

Marianna Deeken
Training Officer
U.S Department of Education
Laura Hughes
Financial Aid Director
Lewis-Clark State College
Nichole Franklin Doering
Financial Aid Leader
Scot Lewis Schools - Paul
Mitchell Partner
Lawrence Persky
Supervisor - Counseling Unit
University of California - Los Angeles
Jack Edwards
Director of Financial Aid
Stanford Graduate School of
Business
Kay Soltis
Director of Financial Aid
Pacific Lutheran University
Mary San Agustin
Director of Financian AId
Palomar College
Andy Promsiri
Assistant Director of Financial AId
University of California - Los Angeles Anderson
School of Management
Catherine King Todd
Director of Financial Aid
Thunderbird School of Global Management