Training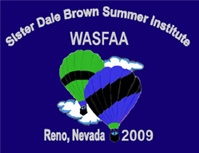 WASFAA's 26th Annual
Sister Dale Brown Summer Institute
June 7 - 12, 2009
University of Nevada, Reno

WASFAA is again pleased to sponsor the 2009 Sister Dale Brown Summer Institute (SDBSI), being held at the University of Nevada, Reno. The SDBSI is a 6-day intensive residential training program designed to provide attendees with training on the fundamentals of administering the Federal Student Aid Programs. The curriculum is geared towards "new" financial aid administrators with two years or less of hands on processing experience and also provides a medium for experienced aid professionals to receive refresher training on the basics of aid processing.

The 2009 SDBSI will be extremely timely, as sessions will incorporate regulatory changes that were part of the College Cost Reduction Act (CCRA) of 2007 as well as the latest news and information on the Higher Education Opportunity Act of 2008 (HEOA).
TRAINING TOPICS AND AGENDA

2009 SISTER DALE BROWN SUMMER INSTITUTE
Scheduled Training Topics
Overview of Aid Programs
Reauthorization Update
FAFSA Application Process
Professional Judgement
Student Eligibility
Calculating Pell Grant Awards
Federal Methodology
Processing Students Loans
Cost of Attendance
Return of Title IV Aid
Verification
History of Financial Aid
Packaging & Awarding
The Legislative Process
Click Here to download a copy of the Tentative Agenda
FACULTY
The 2009 faculty includes experienced financial professionals from campuses and organizations throughout the West.
Marianna Deeken
Training Officer
U.S. Department of Education
Lawrence Persky
Financial Aid Counselor
UCLA
Sheri Dewey
Associate Director of Financial Aid &
Scholarships
Idaho State University
Andy Promsiri
Assistant Director of Financial Aid
UCLA Anderson School of
Management
Cheryl Foster
Regional Training Executive
USA Funds
Susan Shogren
Regional Training Executive
NELA
Laura Hughes
Director of Financial aid
Lewis - Clark State College
Kay Soltis
Director of Financial Aid
Pacific Lutheran University
Paige Hurley
Financial Aid Consultant
David Tolman
Director of Financial Aid
Boise State University
Peter Hurley
Financial Aid Consultant
Nick Valdivia
Director of Financial Aid
California State University, Long
Beach
Rebecca Wonderly
Associate Director, Student Financial
Services
Seattle University
REGISTRATION
-- REGISTRATION CLOSED --
Summer Institute Costs:
Costs include instruction, printed materials, housing, and meals.
An additional $40 WASFAA membership fee is required if you are not a current member.$695.00
- On-campus, single occupancy resident
$595.00
- On-campus, double occupancy resident
$495.00
- Commuter
Participants may arrive early on June 7th and/or stay an extra night on June 12th for an additional charge of $50.00 per night. Meals for those days are not included.
Travel Plans/Arrival & Departure
Plan your travel to arrive in time for Check-in, which will begin Sunday, June 7, at 10:30 AM. The first instructional session begins at 1:00 PM. On Friday, June 12, the last session will end at approximately 11:00 AM, so please make your travel arrangements accordingly.
Lodging & Meals
Participants will stay in Argenta Hall - UNR's newest residence hall located on North Virginia Street - in either single rooms or double rooms with a roommate. Meals will be provided at "The Downunder Café" which is located beneath Argenta Hall. The café is an all-you-can-eat buffet and is the most popular venue for residence hall students. For more information, visit UNR's Residential Life, Housing and Food Service web site at www.reslife.unr.edu for more information.
Local Attractions, Shopping and Entertainment
Participants will find a wide variety of things to see and do. On campus there is the Nevada Historical Society and the Fleischmann Planetarium. Downtown Reno has shops, casinos, bars, restaurants, a movie theater, and the National Automobile Museum - all are a short walk or a free ride on the "Sierra Spirit" bus. University of Nevada-Reno clothing and other items are available in the University bookstore located in the Joe Crowley Student Union Building.
Telephone/In Room Internet Access
We recommend bringing a cell phone to make local and long distance calls. Participants who bring their own computers can access the Internet in the Argenta Hall lobby. Wireless access is available in the Joe Crowley Student Union. Each participant may need to obtain a login and password - more information will be available at a later date.
For additional information, please contact one of the Sister Dale Brown Summer Institute Co-Chairs: